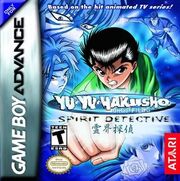 Yu Yu Hakusho: Spirit Detective is a video game published by Atari for the Game Boy Advance, and developed by Sensory Sweep Studios and Screaming Games.
It features six playable characters and over twenty levels of gameplay. It is categorized as a single-player sci-fi action-adventure game based on the anime series. It was released on December 2, 2003 in North America, and was later released as part of a double pack with Dragon Ball Z: Taiketsu.
It was given a TEEN rating for Mild Violence. To the disappointment of many fans, it received poor reviews. The game starts at the beginning of the Spirit Detective Saga and ends with the rescue of Yukina.
Playable characters
[
]