Welcome to YuYu Hakusho Wiki!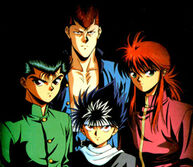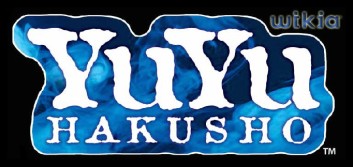 YuYu Hakusho Wiki is a wiki about YuYu Hakusho. The wiki format allows anyone to create or edit any article, so we can all work together to create the site. Check out the FAQ to help you get started! Please be aware, before progressing any further on the Yu Yu Hakusho Encyclopedia, that this site contains heavy SPOILERS
Featured Article - Kurama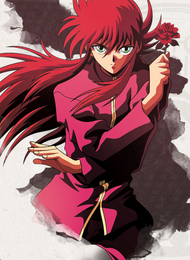 Yoko Kurama (妖狐蔵馬, lit. Yōko Kurama; in the English dub, Kurama the Yoko), also known as Shuichi Minamino (南野秀一, Minamino Shūichi translated as Southern Field and Excellence First, respectively), is a main protagonist in the anime/manga series of YuYu Hakusho. The word Yoko, despite being portrayed as a name in the dub, actually literally translates to "demon fox" in Japanese. He is voiced by Megumi Ogata (Shūichi) and Shigeru Nakahara (Yoko) in the original Japanese and John Burgmeier in the FUNimation English dub, Candice Moore also voiced Kurama in the Animax Asia also in English dub. He is called Dennis in the Filipino dub of the anime. He is voiced by David Hayter in Yu Yu Hakusho: The Movie and by Hideo Seaver in Yu Yu Hakusho the Movie: Poltergeist Report. Kurama as a child in the FUNimation dub is voiced by Candice Moore. In the Filipino dub of the anime he was voiced briefly by Rose Barin during the Artifact Recovery arc and during the Saint Beast arc and onwards, he was voiced by Jeremy Emmanuel Hoya. Read more »
Leader of Team Gorenjya, Akarenjya was misfortunate enough to have to face Elder Toguro in the Dark Tournament semi-finals. Since Akarenjya did not beg for his life, but rather threatened to only come again if not killed, Elder Toguro informed him of how his brother would look at such a statement as honorable, and offer Akarenjya a job in his gang. Again though, Akarenjya was unfortunate, since Elder Toguro is not his younger brother.
Click here to view a different Random Character
To create a new article, simply enter the article title in the box below:
Trouble getting started?
If you are new to wikis, check Help:Getting Started
Don't be afraid to just jump in and start it! Others can edit and improve whatever you make.
Check out the community portal to see what the community is working on, to give feedback or just to say hi.
Help the wiki by editing article stubs and creating wanted pages.
If you would like to become an affiliate of YuYu Hakusho Wiki, contact us.
Upcoming Anime Highlights