Spirit Shotgun is a technique created by Genkai, and later taught Yusuke is a technique similar to Spirit-Gun, however it aims to bring down multiple targets, instead of just the one.
Spirit Shotgun

Kanji

ショットガン

Viz

Shottogan, Shotgun Blast

English

Spirit Shotgun or Shotgun

Base

Spirit Energy

Rank

C to S

Type

Multiple Projectiles / Energy

Class

Offensive

Color

Blue

Range

Long

Users

Yusuke Urameshi, Genkai
Originally, this technique was created by Genkai, in order to defeat many enemies simultaneously. When Yusuke became the disciple of Genkai, this technique was taught to him. The first time he demonstrated this technique was when he and Kuwabara were cornered by several teenagers, infected by insects of Darkness.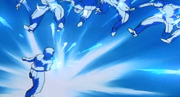 The User closes their hand and positioned backwards, so they focuses their spiritual energy in the palm compressing it, then throws a punch towards the target, releasing energy in the form of various energy projectiles.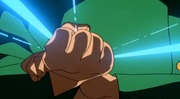 When released the energy spreads out to form of various projectiles bluish energy, flying at high speed.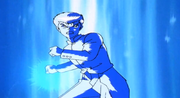 Effect and Power
Edit
The power of the Shotgun, aims to knock out several enemies simultaneously of low power levels. However, this technique does not seem very effective against stronger enemies. The projectile hits the target with force equivalent to powerful punches, on one occasion the attack hit a wall and hole like fists were recorded in places where the bullets hit. The amount of projectiles, and great speed, makes it difficult to dodge an attack, since it can spread throughout the field of view of the user. The number of projectiles can be controlled as shown by Yusuke when he launched only 5 bullets at one time and considerably more in another instance. Although not as powerful, this attack can be used against stronger enemies, in order to momentarily stun, or simply distract. Genkai also was seen using the Shotgun, but her version releases more projectiles and has greater speed. During his fight with Yomi, Yusuke's S Class power level enables him to uses complete version of Shotgun against Yomi, to the point where Yomi was forced to use a defensive barrier to withstand it.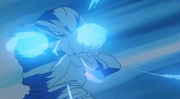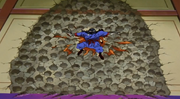 Community content is available under
CC-BY-SA
unless otherwise noted.