Demon-Gun

Kanji

(妖丸

Viz

Yogan

English

Demon-Gun

Base

Demon Energy

Rank

S

Type

Projectile / Energy

Class

Offensive

Color

Red

Range

Long

Users

Yusuke Urameshi, Rando
When revived, due to his Demonic lineage, Yusuke awakened a powerful Demon Energy, making much of his techniques were modified to more intense versions, so his Spirit-Gun, was transformed into the Demon-Gun.
The Demon-Gun, has been demonstrated to be very similar to the Spirit-Gun. Yusuke concentrates his Demon-Energy at the tip of the index finger, until it becomes unstable, then focuses on core energy and expands it and releases a mental trigger. Despite this great power, the Demon-Gun can only be manifested when Yusuke's Demon energy in his blood is at full power.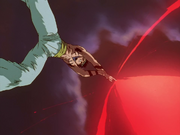 After taking the final form, the energy becomes a mass of red energy similar to a ball, after being released, a projectile energy becomes unstable at high speed.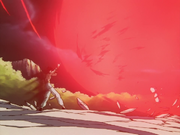 Effect and Power
Edit
The concentration of energy that manifests this technique is far superior to a common Spirit-Gun. When the projectile hits the target it generates an intense burst of energy, which ultimately burns and explodes the target, causing heavy damage. The damage inflicted could easily disintegrate the enemy, and even when used against an S class enemy can still cause massive damage and even death. The only beings capable of withstanding an attack of this magnitude would be creatures of Class S, like Mokuro as Yomi, or using a technical defense as Demon Energy Absorption Wall, which is shown that it was able to absorb much of the Demon-Guns fired by Yusuke.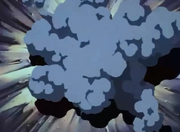 Rando 's Demon-Gun
Edit
Rando also demonstrated a very similar version of Demon-Gun after seeing Yusuke's Spirit Gun during their first confrontation. Rando quickly understood the technical properties and, using his great energy and ability, he created a Demonic Spirit Gun. His technique differs from the original by having a red color, and can be used without restrictions. Just as the original Spirit Gun, this version was able to easily break trees and rocks.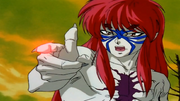 Community content is available under
CC-BY-SA
unless otherwise noted.